Crazy Ladies Primitives Top 100 Sites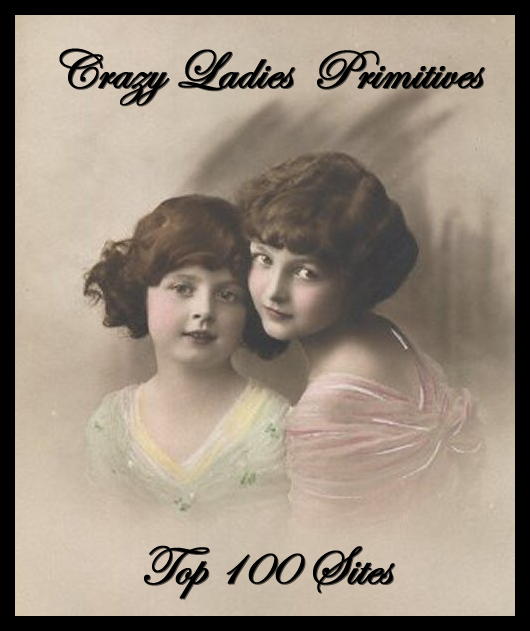 Add Your Site | Member Login

Thank you for adding your banner with Crazy Ladies Primitives. You will find on our Top 100 Site a wide variety of Talented Prim Artists. Thank you for joining our site and have a great day.
Site Of the Moment:


WoodenWishes and HomespunStitches


Primitive Dolls, Pillows, Quilts, Lighted Saltbox Houses and So Much More!!!!
Rank
Site
In
Out

1

Pine Level Printables



1648
2031

Pine Level Printables located in beautiful South East Alabama offers Primitive, Candle, Soap and Crafter Instantly Downloadable and Customized Printables! Hang Tags, Invoices, Jar Labels, Business Cards, Certificates of Authenticity and so much more! Ea

2

Long Cane Primitives



148
679

Long Cane Primitives offers Instantly Downloadable E Recipes and Patterns for Candles, Soaps and Prim and handcrafted Candles, Soaps, Embeds and Prims. Each is handmade in South East Alabama with lots of time and attention to detail. Recipes and Patterns

3

A Primitive Place



77
405

A Primitive Place ~ The place to find Primitive Antiques, Quality Reproductions, and Hand Made OOAK items. I offer such things as Quilts, Samplers, Kitchenware, vintage clothing, Antique Teddy Bears &

4

Rebecca's Creations



63
232

Handmade knitted and crocheted products on my website. Afghans, potholders, placemats, hot plates, dishcloths, doilies, coasters, and more.

5

Old Country Crows Primitives and Country Decor



58
352
A special gathering of Country and Primitive home decor. We have wonderful scented candles, fixins, and tarts. We handcraft twig wreaths and berry baskets plus we carry a full line of affordable country and primitive home accents to fit your needs.

6

Country Folk Art Creations



39
308

Grungy electric candle lamps, primitive lighting, stationery items, recipe boxes, address books, rustic tinware, night lights, garden flags, mailbox covers, handmade calendar holders, hard to find craft supplies, brown cord light strands.

7

Olde Annie Primitives



35
382



8

FaRmHouSe BleSSinGs



13
364



9

Crows in the Attic



6
2051
Crows in the attic Folk art and Craft Marketplace. Our goal is to provide you with the best country and primitive shoppes links on the Web. Our shoppes are filled with many categories from antiques to woodcrafts.

10

Plum Thicket



5
462

Nestled in the beautiful rolling hills and Piney Woods of East Texas, far away from the ordinary hustle and bustle, Plum Thicket is home to the folk art creations of dollmaker Edna Bridges.

11

WoodenWishes and HomespunStitches



1
242
Primitive Dolls, Pillows, Quilts, Lighted Saltbox Houses and So Much More!!!!

12

back in time primitives



1
366
When stopping by my site you will find my handcrafted primitive, grubby candles, primitive handmade goat's milk soaps and handsewn prims. Along with tarts, bowl fillers and room and linen sprays! I a

13

The Pattern Cupboard



0
1154

Instantly Downloadable Patterns, Recipes and Printables along with Supplies for Crafters! Lots of different patterns in various styles from an array of very talented Designers! Prim, Shabby, Extreme, Vintage, Folk Art, Early and so much more! Please stop

14

Huckleberrie Primitives Candle Co.



0
274
Handmade Soy Candles, Smelly Jellies, Prim Fixins, Prim Room Sprays, Tarts, Grubby Loaf Candles,
Soy Cup Melts, Soaps, Fragrance Oils & More. Wholesale also.

Visit Crazy Ladies Primitives MarketPlace today.

www.crazyladiesprimitives.blogpspot.com


Last Update: Sat, 06.30.18 21:25
Next Update: Sat, 06.30.18 21:55
Next Reset: never
Sites: 14

Powered By GoTop100.com